I suppose I should write down my recollections of JCDCG3 before they fade too badly. It was only my second conference in Japan, and the first one was nearly 20 years earlier (PARAOPT V, at the invitation I think of Naoki Katoh). This time, the invitation was by Hiro Ito, but unfortunately he fell ill and couldn't attend. Instead, the position of host was capably handled by Jin Akiyama. Here are Jin and Naoki with me and my wife Diana, photographed by Toshinori Sakai (who despite being behind the lens for most of the conference, mysteriously appears in many past conference photos):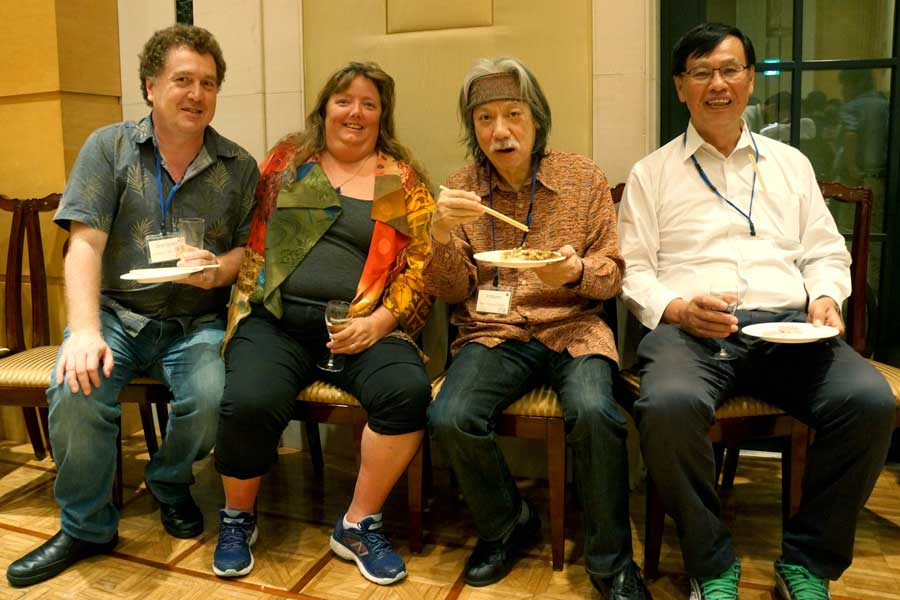 This was the 20th anniversary of the conference, and was dedicated in celebration of five of its regular contributors: Jin Akiyama, Vašek Chvátal, Mikio Kano, János Pach, and Jorge Urrutia. Along with those five, there were four more invited plenary speakers (Erik Demaine, Naoki Katoh, Evangelos Kranakis, and myself), and four days of double-session contributed talks. There's a 15Mb pdf collection of abstracts online, but the booklet they handed out at the conference was, instead, a 75-page illustrated history of the conference (which doesn't seem to be online). As usual the full proceedings will be published later.
I attended most of the conference (missing one early morning session) but that still means I saw fewer than half of the contributed talks. Some of the highlights for me:
Overall, quite a fun conference. I hope it doesn't take me quite so long to return next time!