Make your own paper orthogonal permutohedron! Here's how. Print out the pattern, cut the solid lines, valley fold the dashed lines, and mountain fold the dash-dot lines. (I used a box-cutter both to make the cuts and to prescore the folds.) Here's what it looks like when you're done: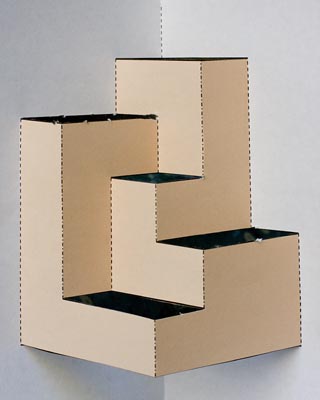 See also this fractal staircase, another orthogonal polyhedron constructed in a similar way.
---
Comments:
hlwoods:
2009-12-04T20:06:32Z
I am suddenly reminded to dig out the exacto knife and start on the Christmas cards.
11011110:
2009-12-04T20:55:00Z
My wife said something similar when she saw this.
wadik:
2009-12-10T03:15:22Z
Of course you should draw your own pattern not print one :P
11011110:
2009-12-10T05:54:09Z
I drew it. On the computer. And then I printed it. Of course, if you want a different orthogonal polyhedron than this one, you'll have to draw your own, but I hope the pattern for how to draw it is clear enough from this example.